The web edition has been updated several times over the last week with improvements to handle the new requirements.
Unfortunately with the increased number of photos and now also videos, I'm going to have to increase the price for the first time in 5 years. Due to covid-19 I will delay this until September 1st. From then, the prices will be increased by $5 per month for both the basic and standard plans.
Now supports video files
You can now also upload and attach videos to your inspections. I recommend lowering the quality of your videos to 720p so that you aren't recording and uploading Full HD or 4K videos. These high resolutions aren't required and will take much longer for you to upload.


Improved photo watermark / overlay
The photo watermark has been improved to now include the photo date, roadworthy certificate number and the roadworthy testers number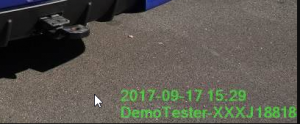 Added new 'Add to home screen' option to run as an app
This new option brings an 'app' like experience to both the desktop PC and your phones or tablets, allowing you to open Roadworthy Logbook directly from your home screen.
On android or your PC you should see an 'Add to home screen' option once you have logged in. Click this and it will install as an application.

For iPhones and iPads, you can bring up the menu and click Add to home screen: